Jennifer Sanchez
(39 Items)
subjects
product types
sizes
Mini

Small

Medium

Large

Oversized

Giant
shapes
Portrait

Landscape

Square

Panoramic

Slim
colors
prices
Less than $25

$25 - $75

$75 - $150

More than $150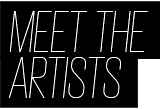 Jennifer Sanchez is known for geometric and drippy paintings that explode with color. With a background in design, she loves playing with pattern and repetition but is quick to point out that "there are no limits." Her work has been exhibited from coast to coast at venues such as Gotham Gallery in New York City, Parts Gallery in Toronto and BLK/MRKT in Chicago and Culver City. 

What inspires you?

I got my college degree in Graphic Design and general Fine Arts, with a minor in Art History. I feel like my Graphic Design degree is a huge influence in my work. I get inspired by all the great graphic design I see every day living in New York City, whether it's on a coffee cup or a billboard. I gravitate to it.
Tell us about your process.

I'm looking at a Bauhaus textile book right now. Weaving, textiles, and Navajo patterns have really influenced my work lately. Basically I've been testing out patterns and recreating them in my paintings. I start by laying down a grid, but it's not perfect. My work isn't perfect; I want you to see the flaws. I want you to see my hand in there.


Why make art?
I choose what I choose to make. I never feel limited—that's one great, beautiful thing about making stuff and being creative. It can be scary because there are no excuses, but I can do anything I want. I'm the boss, and I love that.
Ship Time
Ship time indicates the typical number of business days it takes for your item(s) to leave our facilities but does not include transit time from our facilities to the final destination.
Orders that contain multiple items with different ship times will be shipped out based on the item with the longest ship time.
Please note: Ship time is determined based on the method of payment chosen.
This item cannot be framed