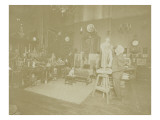 Portrait de Jean Léon Gérôme dans son atelier travaillant à une statue féminine (l'oracle aux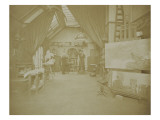 Jean-Léon Gérôme dans son atelier avec un modèle masculin posant pour "l'ouvrier métallurgiste"
Ship Time
Ship time indicates the typical number of business days it takes for your item(s) to leave our facilities but does not include transit time from our facilities to the final destination.
Orders that contain multiple items with different ship times will be shipped out based on the item with the longest ship time.
Please note: Ship time is determined based on the method of payment chosen.
This item cannot be framed