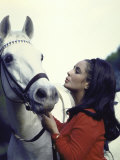 Actress Elizabeth Taylor with Horse During Filming of "Reflections in a Golden Eye"
Ship Time
Ship time indicates the typical number of business days it takes for your item(s) to leave our facilities but does not include transit time from our facilities to the final destination.
Orders that contain multiple items with different ship times will be shipped out based on the item with the longest ship time.
Please note: Ship time is determined based on the method of payment chosen.
This item cannot be framed
Works by independent artists on

T-rex

John Robertson

http://ar.art.com/products/72251/t-rex.htm

Texas Flag BW

John Gusky

http://ar.art.com/products/224604/texas-flag-bw.htm

Texas Flag

John Gusky

http://ar.art.com/products/224605/texas-flag.htm

Water

T_Ferrin

http://ar.art.com/products/63894/water.htm

Primary Colors

Carole_T_Garrard

http://ar.art.com/products/31082/primary-colors.htm

Fine Art Nude T-Shir...

River Clark

http://ar.art.com/products/195338/fine-art-nude-t-shirt.htm

Fire

T_Ferrin

http://ar.art.com/products/63893/fire.htm

http://ar.art.com/shop/search/N/0/Ntk/all/Ntt/T/Num/1/
8
T