>
shop
>
Animals
>
Wild Animals
>
More Wild Animals...
>
Baby Wild Animals
>
Photography
>
Vintage Photography
Baby Wild Animals Vintage Photography
(2 Items)
subjects
art styles
product types
shapes
Portrait

Landscape

Square

Panoramic

Slim
colors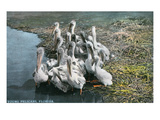 Florida - View of Baby Pelicans
Ship Time
Ship time indicates the typical number of business days it takes for your item(s) to leave our facilities but does not include transit time from our facilities to the final destination.
Orders that contain multiple items with different ship times will be shipped out based on the item with the longest ship time.
Please note: Ship time is determined based on the method of payment chosen.
This item cannot be framed
Works by independent artists on

wild baby raccoon cu...

Teo Alfonso

http://ar.art.com/products/78591/wild-baby-raccoon-cute-innocent.htm

Into The Light

KyokoYamaji

http://ar.art.com/products/161023/into-the-light.htm

Two Baby Tigers

Cuitlahuac_Meza_3

http://ar.art.com/products/572773/two-baby-tigers.htm

Baby fox

BeckerPhotos

http://ar.art.com/products/480834/baby-fox.htm

I love my Momi

Christine Sponchia

http://ar.art.com/products/745289/i-love-my-momi.htm

Two Baby Cheetah Wil...

Cuitlahuac_Meza_3

http://ar.art.com/products/692692/two-baby-cheetah-wild-cats.htm

Mother and Baby Rhin...

Frances Vincent-Arts

http://ar.art.com/products/564638/mother-and-baby-rhino.htm

http://ar.art.com/shop/search/N/0/Ntk/all/Ntt/Baby+Wild+Animals/Num/1/
8
Baby+Wild+Animals