People (LIFE) Decorative Art
(3 Items)
subjects
People (LIFE)
art styles
Founded by editor and publisher Henry R. Luce, LIFE was America's first picture magazine. From its premiere issue in 1936, LIFE fulfilled an ambitious vision with unprecedented photographic coverage–from the intimate drama of daily life to the spectacle of world events. Our LIFE Picture Collection brings together a vast array of these unforgettable images, many of which have never been available to the public until now.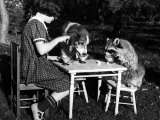 Claire Shorrock Giving Ice Cream Party with Pet Dog and Raccoon
Servants of British Lord Archibald Wavell Viceroy of India in their Scarlet and Gold Uniforms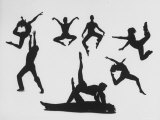 Silhouettes of Dancers Diane Sinclair and Ken Spaulding
Ship Time
Ship time indicates the typical number of business days it takes for your item(s) to leave our facilities but does not include transit time from our facilities to the final destination.
Orders that contain multiple items with different ship times will be shipped out based on the item with the longest ship time.
Please note: Ship time is determined based on the method of payment chosen.
This item cannot be framed
Works by independent artists on

The Kiss

Rabi Khan

http://ar.art.com/products/45239/the-kiss.htm

chatting

Christian Simonian

http://ar.art.com/products/136295/chatting.htm

Touch Life

Rabi Khan

http://ar.art.com/products/44797/touch-life.htm

Big Sister

Jeffrey Gaddy

http://ar.art.com/products/127179/big-sister.htm

The Couple

Rabi Khan

http://ar.art.com/products/45463/the-couple.htm

At Rest with the Bir...

A Phillips

http://ar.art.com/products/63829/at-rest-with-the-birds-the-louvre.htm

Sailors on the Track

Jason Wolf

http://ar.art.com/products/67200/sailors-on-the-track.htm

http://ar.art.com/shop/search/N/0/Ntk/all/Ntt/People++LIFE+/Num/1/
8
People++LIFE+