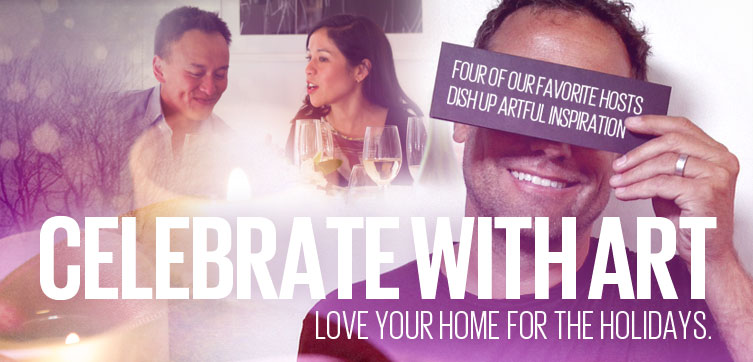 EXPRESSIVE
"Bold art, food and people bring a space to life."
TISH EVANGELISTA
"I'm generally attracted to strong, bold, graphic pieces. I like expressive art, food and people and definitely think that art can spark conversation. Not everything will appeal to everyone, but that's okay. That's not what it should be about anyway. Half the enjoyment of art is in the spontaneous discussions that arise."
DRAMATIC
"Fabulous art gets the party started."
Bill Smolen
"My home reflects my life and travels so it's ever-evolving. It's also small, as is often the case with New York apartments. For this party, an intimate gathering of 75 friends, I created several vignettes mixing art and tabletop décor to set a festive mood. The art I chose also paired well with the food—the Gregory Garrett piece mimicked the colors of the macaroons and even spurred a conversation about abstract art."
COZY
"Lighthearted art warms up any gathering."
"When we throw parties, my husband and I try to make them feel really casual. We often decorate with items from the garden or farmers market and our "best" china is the set we use every day. I chose these artworks because they're whimsical and created an interesting backdrop for our gathering. It was also really fun to sneak in a couple of my own photographs that I produced with Photos to Art, like this one of my husband jumping."
PLAYFUL
"Art. Books. Food. Family. Holiday!"
Andy Stefanovich
"We admit it, at our bookstore we often judge books by their covers because sometimes, what you see is exactly what you get. Whether it's framed or jacketed, we love art that easily communicates, so that became the inspiration for our event—a take-out Chinese feast with our family, friends and favorite customers. I read stories to the kiddos, adults clinked glasses and we all cracked into cookies."
STYLE TIPS
"Our hosts' helpful hints on decorating with art."

Tip 1: "Mix and match frames for an unexpected look. This approach lets you express your personality."

Tip 2: "Hang art where you dine & don't forget the kitchen. These rooms could be as delicious as the meal you serve."

Tip 3: "Turn your personal photos into canvas or framed art with
Photos to Art
. Group these with other art to tell a meaningful story."
Shop Now