This gicle print delivers a vivid image with maximum color accuracy and exceptional resolution. The standard for museums and galleries around the world, gicle is a printing process where millions of ink droplets are sprayed onto highquality paper. With the great degree of detail and smooth transitions of color gradients, gicle prints appear much more realistic than other reproduction prints. The highquality paper is acid free with a smooth surface.
Sports-Based Art
Here's a great idea to make game day even more exciting. Try our impressive sports art collection and give your favorite team a roaring shout out. Explore from vintage prints of your favorite players to photographic vignettes of glorious sporting moments. Whatever piece of art you choose for your gaming cave or viewing nook, get it wall-ready. Style your masterpieces in over 1000 ways with our framing customizer.
Our popular sports art pieces include Muhammad Ali's graphic portrait by Cristian Mielu, Four Sporting Boys by Norman Rockwell.
Motivational Art
Frame your mantra on your gallery wall. Our motivational art collection is the feel-good pep-talk made for young and young-at-heart. Choose from inspiring affirmations, encouraging illustrations, and lots more!
Make a near and dear one's day or refresh your little's learning space with these inspiring masterpieces. Leah Flores, Lamai McCarten, Brett Wilson are the artists behind some of our best-selling motivational art.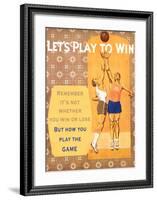 ---