Fine Art Print Edition of 45 Signed and numbered by the artist This print is a rare and collectable work of art. As such, it may show minor signs of handling, aging, or original printing defects. It is guaranteed to be in very good condition or better. This product is not eligible for discounts or coupon codes.
Scenic Art
Why settle for blank walls, when you can transform them into stunning vista points. Explore from imaginative scenic abstracts to sublime beach landscapes captured on camera. The possibilities are endless. The painterly quality of our canvas creates an almost life-like panorama, so you can enjoy your favorite scenery without leaving home.
Vincent Van Gogh's Starry Night is one of the most renowned scenic masterpieces. Other famous landscape artists and photographers include Georgia O'Keeffe, Ansel Adams, and Claude Monet.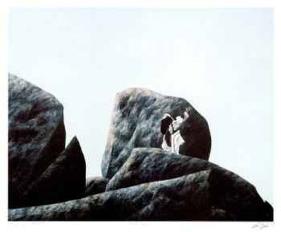 ---