This gicle print delivers a vivid image with maximum color accuracy and exceptional resolution. The standard for museums and galleries around the world, gicle is a printing process where millions of ink droplets are sprayed onto highquality paper. With the great degree of detail and smooth transitions of color gradients, gicle prints appear much more realistic than other reproduction prints. The highquality paper is acid free with a smooth surface.
Abstract Art
Curious to try something new? Why not learn the language of colors? Our collection of abstract art will introduce you to intriguing concepts and emotions evoked by brushstrokes, shapes, and composition of art. A genre of modernism, abstract art, was founded by Wassily Kadinsky. It represents objects and ideas in an interpretive way.
Other famous abstract artists include Piet Mondrian, Joan Miro, and Jackson Pollock. See their work come alive with the painterly quality of our museum-grade canvas.
Figurative Art
Think reality delights? You bet your walls do too. So, why not introduce them to our collection of figurative art. Make acquaintance with inspiring muses of famous masters or get a glimpse of pop culture icons caught on camera. Any masterpieces you choose will give your space a unique story to share in our handcrafted frames.
This genre of art involves a realistic depiction of living as well as inanimate objects. Artists like Jean Michel Basquiat, Norman Rockwell, and Banksy are renowned for giving a platform to cultural commentary and human experiences through their art.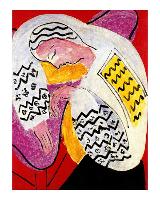 ---