Botanical Art
Craving Daffodils in the fall, or Snowdrops in the spring? We got you. Grow a fantastical garden of your favorite blooms all year long with our gorgeous botanical art. From sublime collages to vintage illustration, our collection of botanicals become wall-ready in our handcrafted frames.
Before photography became a thing, illustrations of plants, flowers were the only way of recording, identifying the various kinds of plant species in the world. Pierre-Joseph Redouté, Maria Sibylla Merian, Annie Pratt are some of the most prolific botanical artists of the past.
Seasonal Art
Would you rather see fall colors all year long or spring landscapes? No matter what season you prefer, make it everlasting with our seasons' art collection. Explore from winter scenery to summery fruits and so much more! This collection will make you and your loved ones smile!
Make your favorite season art more vivid with our professionally hand-stretched canvas! Hyunah Kim, Vincent Van Gogh, Duy Hunh, Agnes Cecile have created some of our best-selling seasons art.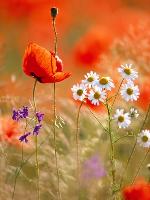 ---