The works of art in this collection were selected from the personal collection inherited by Marina Picasso, Pablo Picassos granddaughter. After Pablo Picassos death in 1973, his granddaughter Marina authorized the printing of these original lithographs, which have come to be known as the Picasso Estate Collection. The lithographs were meticulously created after the original works (oil paintings, watercolors, pastels, and charcoal drawings) by Master Chromist Marcel Salinas, who worked closely with Picasso in his lifetime. They are printed in an edition of 1000 on firstquality paper. Years of publication: 19791982. Printer: Laurent Marcel Salinas Publisher: Estate of Picasso (Marina Picasso), with Estateapproved Picasso signature printed below image. It also has in typeset under image, Collection Marina Picasso, and the copyright info in typeset on the right of image. Certificate of authenticity included.
Travel Art
Art is the best way of seeing the world when travel isn't possible. Explore our curation of travel art for a trip around the globe. See from tourist favorites landmarks–the Eiffel tower– to hidden gems like the breathtaking landscapes of Yosemite National Park.
Whether you find a cozy reminder of home, your dream destinations, or even cool maps of the world, our handcrafted frames will give it the perfect finishing touch.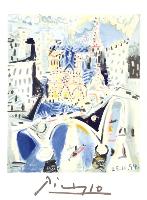 ---