Caribbean Flamingos from Miamis Metrozoo Crowd into the Mens Bathroom is a spectacular photo of a flamboyance of pink flamingos gathering in a mens bathroom.
Animal Art
Keep your furry and feathery friends close, whether they are a galloping stallion or a dog taking a selfie. Our gallery is here to turn empty walls into a cute and quirky display of animal art.
Psst! Did you know chimpanzees, elephants, and dolphins are some of the most intelligent mammals out there?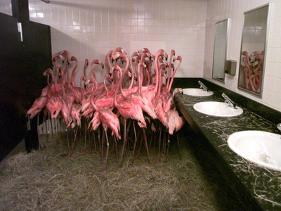 ---