Published December 18, 1989 "Listen to me, John. Tell them this is our final offer. Let 'em know we'll take an option at twenty-five million over five years?not a penny more, not a minute longer! If they balk, stall them for time and get back to me." Man on cell phone pushing his child on the swing. Photo licensed from the Cond? Nast Collection, home of The New Yorker, Vogue, Vanity Fair and other popular brands. Find this and other artwork at the Cond? Nast Collection.
Publication Art
Would you rather see fall colors all year long or spring landscapes? No matter what season you prefer, make it everlasting with our seasons' art collection. Explore from winter scenery to summery fruits and so much more! This collection will make you and your loved ones smile!
Make your favorite season art more vivid with our professionally hand-stretched canvas! Hyunah Kim, Vincent Van Gogh, Duy Hunh, Agnes Cecile have created some of our best-selling seasons' art.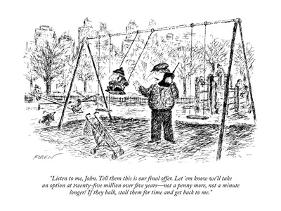 ---