Lithograph Edition of 165 Signed and numbered by the artist Printed on Somerset paper. This print is a rare and collectable work of art. As such, it may show minor signs of handling, aging, or original printing defects. It is guaranteed to be in very good condition or better. To further inquire about this artwork please send us an email. This product is not eligible for discounts or coupon codes.
Botanical Art
Craving Daffodils in the fall, or Snowdrops in the spring? We got you. Grow a fantastical garden of your favorite blooms all year long with our gorgeous botanical art. From sublime collages to vintage illustration, our collection of botanicals become wall-ready in our handcrafted frames.
Before photography became a thing, illustrations of plants, flowers were the only way of recording, identifying the various kinds of plant species in the world. Pierre-Joseph Redouté, Maria Sibylla Merian, Annie Pratt are some of the most prolific botanical artists of the past.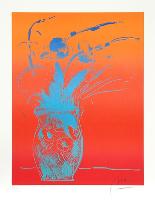 ---