Urbane Antique Gold Frame
The Framed Print
This framed print features a frame and mat combination selected to complement your art. The print, which displays sharp, vivid images and a high degree of color accuracy, is protected and enhanced by this frame that has been handcrafted in the USA from the finest materials.
The Frame: Urbane Antique Gold
Urbane wood frames combine antique details with a modern twist to create a truly transitional frame.
Material Type:

Wood

Frame Width:

1.25

Frame Height:

0.94

Print Size:

36" x 24"

Mat:

This bright white mat board has a crisp white core and is buffered to resist aging.

Glass:

Acrylic: Clear

Finished Size:

43" x 31"
Ships in Arrives by Mon, Jun 12
Product ID: 21535255780A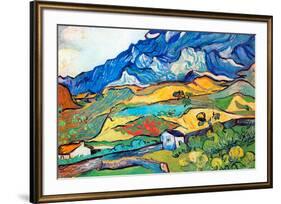 ---