Bring largerthanlife style into your space with this Giant Art Canvas Print. Rendered on exquisite, ecofriendly materials with fade resistant archival inks, your bold canvas will make a dramatic statement in any space. The high quality canvas lends the piece a real gallery feel, offering an immense artwork without compromising on quality. The unique ready to assemble stretching system includes instructions and all the hardware youll need to display this enormous art print anywhere in your home. Note: Because of the oversize dimensions, the canvas does not ship preassembled. The artwork will arrive rolled up with ready to assemble stretcher bars included. Archival lightfade resistant inks. Mirror edge over 1.5 deep wood stretcher bars. Includes a patented ready to assemble stretching system and hardware to mount.
Botanical Art
Craving Daffodils in the fall, or Snowdrops in the spring? We got you. Grow a fantastical garden of your favorite blooms all year long with our gorgeous botanical art. From sublime collages to vintage illustration, our collection of botanicals become wall-ready in our handcrafted frames.
Before photography became a thing, illustrations of plants, flowers were the only way of recording, identifying the various kinds of plant species in the world. Pierre-Joseph Redouté, Maria Sibylla Merian, Annie Pratt are some of the most prolific botanical artists of the past.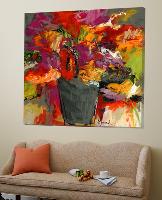 ---