Bring largerthanlife style into your space with this Giant Art Canvas Print. Rendered on exquisite, ecofriendly materials with fade resistant archival inks, your bold canvas will make a dramatic statement in any space. The high quality canvas lends the piece a real gallery feel, offering an immense artwork without compromising on quality. The unique ready to assemble stretching system includes instructions and all the hardware youll need to display this enormous art print anywhere in your home. Note: Because of the oversize dimensions, the canvas does not ship preassembled. The artwork will arrive rolled up with ready to assemble stretcher bars included. Archival lightfade resistant inks. Mirror edge over 1.5 deep wood stretcher bars. Includes a patented ready to assemble stretching system and hardware to mount.
People Art
If you could have dinner with someone famous, who would you choose? A social justice icon, a movie star, or a celebrated artist. Whomever you choose, our extensive people art collection will bring them at just a click! So, get ready to create an inspired space with the ones that encourage you.
People art is any photograph, painting that's an artistic or true-to-life representation of people or groups. Our most popular people art include an exclusive illustration of Ruth Bader Ginsburg, black and white portraits of Frida Kahlo, and Elvis Presley, amongst many others.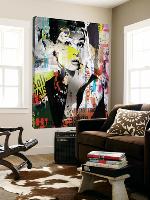 ---