Mark Gemmells Close up portrait of Scottish Highland cattle on a farm is a sepia photograph of a Scottish Highland cattle with its tongue sticking out and clouds in the background.
Animal Art
Keep your furry and feathery friends close, whether they are a galloping stallion or a dog taking a selfie. Our gallery is here to turn empty walls into a cute and quirky display of animal art.
Psst! Did you know chimpanzees, elephants, and dolphins are some of the most intelligent mammals out there?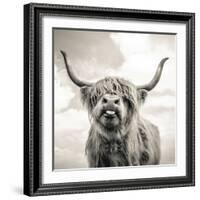 ---