When I paint, I always end up with something very tranquil, and serene and still. I think inevitably my painting reflects my soul. In a way, it shows my state of mind. I started with something like landscape, but divided the space by using lines to show the interruption of many confused thoughts. And I tried to create different layers to the very thin surface.
Abstract Art
Curious to try something new? Why not learn the language of colors? Our collection of abstract art will introduce you to intriguing concepts and emotions evoked by brushstrokes, shapes, and composition of art. A genre of modernism, abstract art, was founded by Wassily Kadinsky. It represents objects and ideas in an interpretive way.
Other famous abstract artists include Piet Mondrian, Joan Miro, and Jackson Pollock. See their work come alive with the painterly quality of our museum-grade canvas.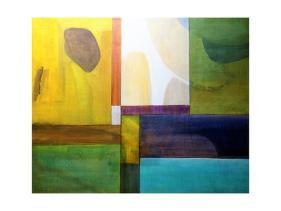 ---