Botanical Art
Craving Daffodils in the fall, or Snowdrops in the spring? We got you. Grow a fantastical garden of your favorite blooms all year long with our gorgeous botanical art. From sublime collages to vintage illustration, our collection of botanicals become wall-ready in our handcrafted frames.
Before photography became a thing, illustrations of plants, flowers were the only way of recording, identifying the various kinds of plant species in the world. Pierre-Joseph Redouté, Maria Sibylla Merian, Annie Pratt are some of the most prolific botanical artists of the past.
Museum Art
Make your dream of living inside the Louvre come true or give your home the feel of Whitney's special exhibit. Explore an art collection with the best masterpieces featured in museums around the world.
Museums were created to collect and preserve art for inspiration and education. Capitoline Museum in Rome happens to be the oldest museum in the world.
Frida Kahlo, Katsushika Hokusai, Claude Monet, Hilma A.F. Klint, Georgia O'Keefe, Jean-Michel Basquiat, Vincent Van Gogh, and Banksy are some of the acclaimed artists in our collection.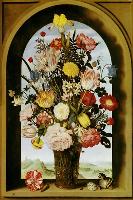 ---