This male lion of the Swamp Pride in the Masai Mara, of Kenya, was leery of a younger challenger who was circling his pride just out of range. This veteran, would stand up every few minutes and go on patrol. He was magnificent.
Animal Art
Keep your furry and feathery friends close, whether they are a galloping stallion or a dog taking a selfie. Our gallery is here to turn empty walls into a cute and quirky display of animal art.
Psst! Did you know chimpanzees, elephants, and dolphins are some of the most intelligent mammals out there?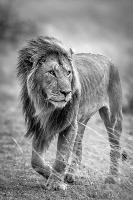 ---