Sports-Based Art
Here's a great idea to make game day even more exciting. Try our impressive sports art collection and give your favorite team a roaring shout out. Explore from vintage prints of your favorite players to photographic vignettes of glorious sporting moments. Whatever piece of art you choose for your gaming cave or viewing nook, get it wall-ready. Style your masterpieces in over 1000 ways with our framing customizer.
Our popular sports art pieces include Muhammad Ali's graphic portrait by Cristian Mielu, Four Sporting Boys by Norman Rockwell.
Publication Art
Would you rather see fall colors all year long or spring landscapes? No matter what season you prefer, make it everlasting with our seasons' art collection. Explore from winter scenery to summery fruits and so much more! This collection will make you and your loved ones smile!
Make your favorite season art more vivid with our professionally hand-stretched canvas! Hyunah Kim, Vincent Van Gogh, Duy Hunh, Agnes Cecile have created some of our best-selling seasons' art.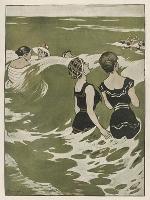 ---