Zelda gave this painting of Chrysanthemums to Anne Ober, wife of F Scott Fitzgeralds literary agent, Harold Ober. Although she gave most of her fairy tales, landscapes, paper dolls and religious works to her daughter, Zelda gave dozens of paintings of flowers to friends. Original size: 15 34" x 11 12"
Botanical Art
Craving Daffodils in the fall, or Snowdrops in the spring? We got you. Grow a fantastical garden of your favorite blooms all year long with our gorgeous botanical art. From sublime collages to vintage illustration, our collection of botanicals become wall-ready in our handcrafted frames.
Before photography became a thing, illustrations of plants, flowers were the only way of recording, identifying the various kinds of plant species in the world. Pierre-Joseph Redouté, Maria Sibylla Merian, Annie Pratt are some of the most prolific botanical artists of the past.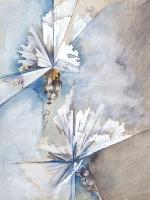 ---