Musical Art
Live your best life to the beats of your favorite song even when there's no music playing. Our music art collection will show you how! Choose from abstract masterpieces inspired by jazz, or relive the thrill of dancing at your favorite concert with portraits of rock stars.
Art, like music, helps express emotion. Explore our collection to express yourself through your musical art taste. Day Tripper by Peter Adderley, a portrait of Fleetwood Mac, and a vibrant Prince illustration is some of our staff's hot favorites.
Motivational Art
Frame your mantra on your gallery wall. Our motivational art collection is the feel-good pep-talk made for young and young-at-heart. Choose from inspiring affirmations, encouraging illustrations, and lots more!
Make a near and dear one's day or refresh your little's learning space with these inspiring masterpieces. Leah Flores, Lamai McCarten, Brett Wilson are the artists behind some of our best-selling motivational art.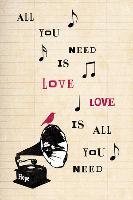 ---