Abstract Art
Curious to try something new? Why not learn the language of colors? Our collection of abstract art will introduce you to intriguing concepts and emotions evoked by brushstrokes, shapes, and composition of art. A genre of modernism, abstract art, was founded by Wassily Kadinsky. It represents objects and ideas in an interpretive way.
Other famous abstract artists include Piet Mondrian, Joan Miro, and Jackson Pollock. See their work come alive with the painterly quality of our museum-grade canvas.
Transportation Art
Partake in a sailing regatta or feel the wind in your hair cruising in a 'Vette. Go places without leaving home. Give wings to self-expression with our transportation art collection.
Pick the perfect ride for your walls from mega jets, cool kayaks to vintage race cars. Get them wall-ready and fabulous in our handcrafted frames, starting at $59. Famous works of art from this collection include Monet's Sailboat, Sleep Balloon by Nancy Tillman. Vapor Helicopter by Banksy.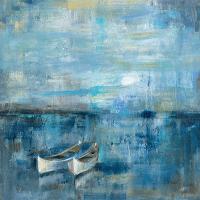 ---