The Milky Way. Optical image of the night sky, showing part of the Milky Way. The brightest part of the Milky Way is the constellation of Sagittarius (centre left), which lies in the direction of the centre of our galaxy. The Milky Way is a luminous band in the sky caused by the light of stars which are too numerous to be seen individually. The stars are numerous because an observer looking in their direction is viewing along the plane of our galaxy's disk. The dark areas in the Milky Way are dust clouds which hide the stars behind them. The Milky Way is a disk- shaped spiral galaxy that contains at least 100 billion stars.
Scenic Art
Why settle for blank walls, when you can transform them into stunning vista points. Explore from imaginative scenic abstracts to sublime beach landscapes captured on camera. The possibilities are endless. The painterly quality of our canvas creates an almost life-like panorama, so you can enjoy your favorite scenery without leaving home.
Vincent Van Gogh's Starry Night is one of the most renowned scenic masterpieces. Other famous landscape artists and photographers include Georgia O'Keeffe, Ansel Adams, and Claude Monet.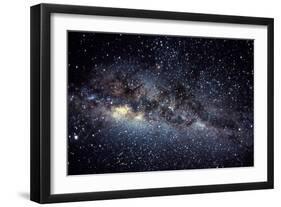 ---