Chelsea Forest Gray Frame
New York storefront, at an angle. BR; man with cigarette is standing or walking in front of store with wooden facade. Over mans head is a Coca-Cola sign.Door to store has base in BC and top in C. Store window display is to the left of the door with words: St. Francis Grocery & Fruit and candy cigars cigarettes. Multiple Coca-Cola and 7up signs.
Travel Art
Art is the best way of seeing the world when travel isn't possible. Explore our curation of travel art for a trip around the globe. See from tourist favorites landmarks–the Eiffel tower– to hidden gems like the breathtaking landscapes of Yosemite National Park.
Whether you find a cozy reminder of home, your dream destinations, or even cool maps of the world, our handcrafted frames will give it the perfect finishing touch.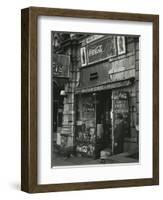 ---